Just as you've already learned quite a bit about the jewelry industry and the materials used in the posts, I naturally don't want to deprive you of jewelry making. Unfortunately, it is rarely revealed in which countries and under what conditions the jewelry was made. In fact, the People's Republic of China is the largest manufacturer and exporter of the jewelry industry on the world economic market. In particular, over the past 40 years, Panyu, a small district of Guangzhou, has become one of the world's strongest gem processing and jewelry manufacturing centers. The "jewelry city" of Panyu alone employs more than 150,000 people in this industry. It is also worth mentioning that 50% of China's jewelry exports and 25% of the world's jewelry products, including many international jewelry brands, come from this district. Disappointingly, there are immense differences between the dealers and the jewelry quality.
For me, it would have been economic suicide to import cheap mass-produced items from wholesalers and find them in other online stores. Also, the lack of control over production, materials, quality, sustainability, ethics and multiple middlemen does not match the vision of GEMLY & Co. Since coincidentally my parents are also from Guangzhou, the south of China and I would like to build a connection to my roots, after several months of research I chose one of many jewelry manufacturers from Panyu that could meet my high standards. This one specialized in gemstones, silver and gold jewelry as well as "ODM" Original Design Manufacturing (custom made) and was able to convince me.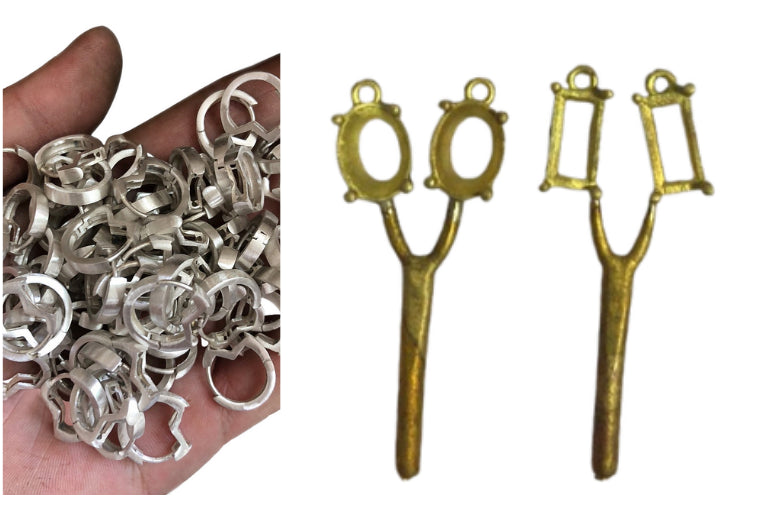 Humane Working Conditions
Disappointingly, this rarely applies to Asian countries. So it is all the more gratifying that my jewelry manufacturer offers its employees a harmonious working environment, competitive wages, regulated working hours, breaks, vacations and training in accordance with Western standards. Because as everyone knows: Good working conditions strengthen the well-being of each employee and thus increase the productivity and success of the company.
Jewelry Manufacturing
All GEMLY & Co. pieces are custom designed by me and realized in 3D drawings by the jewelry manufacturer's design team. All jewelry is made with high standards such as the use of recycled 925 sterling silver, a 4 micron thick 18 karat gold layer, natural gemstones, in compliance with EU chemical regulations on three professional production lines and with strict quality control.
A variety of production steps with a lot of intuition is required for jewelry production.

These consist of, for example:
Making the sketch - 3D CAD drawing, creating a model, vulcanizing a rubber mold, wax spraying, setting to the wax tree, embedding, melting out wax, burnout, melting and casting, de-bedding, cleaning and cutting, fine grinding, polishing, setting the gemstones, fine polishing, embossing stamp and the electroplating (surface finishing - gold layer).

After that, the jewelry goes through a strict quality control. After two weeks of handwork, the beautiful pieces are finally ready and can hardly wait to be worn by you. Quite elaborate, isn't it?