Packaging
Not only do you and your new gemstone jewelry need to look great, the packaging should as well too. Because the first thing you hold in your hand from GEMLY & Co. is of course the shipping box. This consists of 80% recycled paper and is of course 100% recyclable and biodegradable. Because sustainable means not to consume more resources than they grow back or are available in the future and to promote its recycling. Unfortunately, mankind annually consumes about 1.6 times more natural resources than the earth provides us with in the first place.

The bright white high-quality GEMLY & Co. jewelry box, in which your treasures are stored safely for transport, is also made of 100% recyclable paper and is versatile for you to use. I try, as far as it is in my power, holistically avoid plastic. Only the foam insert of the jewelry box has a small amount of polyurethane - but that is 100% recycled foam. To avoid waste, GEMLY & Co. has dispensed with other filling materials and wraps your order in beautiful tissue paper.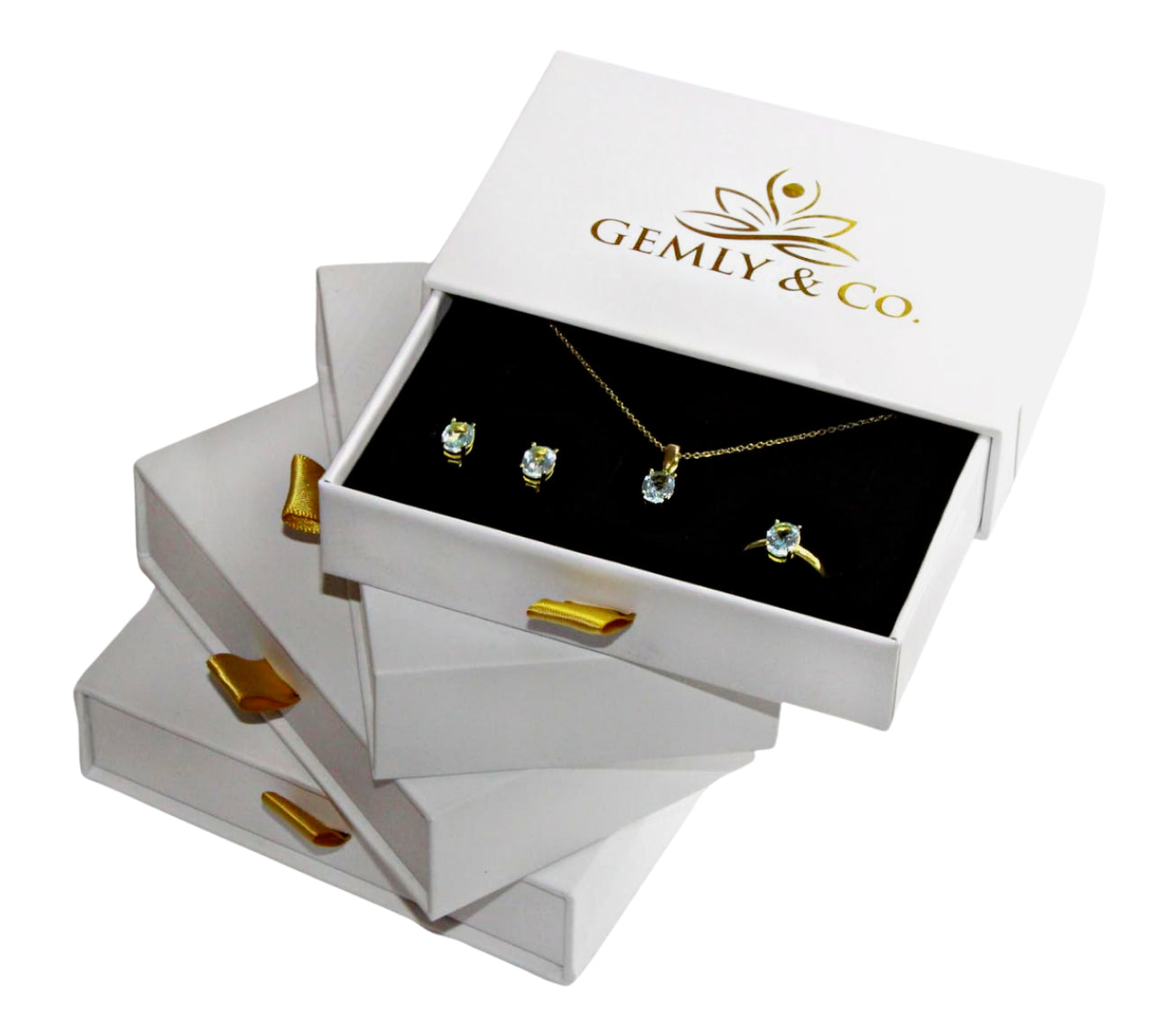 GEMLY & Co. is also involved in the dual system (recovery and recycling system) and licensed by "Der Grüne Punkt". Thus, reliable returns, sorting and recycling of packaging by the dual system is guaranteed.
Climate neutral shipping with DHL GoGreen
Online retail has experienced a powerful "boom", mainly due to the pandemic. In 2020 alone, Deutsche Post DHL shipped 1.6 billion parcels. The trend will continue to rise in the coming years. The climate is also feeling the effects of this, because every time a parcel is transported, CO₂ is emitted, which pollutes the environment.

GEMLY & Co. wants to make a small contribution and sends all packages with Deutsche Post DHL climate neutral with GoGreen. But what exactly does CO₂-neutral and GoGreen mean? As part of the GoGreen environmental protection program, the CO₂ emission levels generated during transport are calculated and offset by investing in climate protection projects around the world. These projects include, for example, the improvement of water supply in Guatemala, renewable energy development in Brazil or the wind power project in India. You can find more GOGREEN climate protection projects of Deutsche Post here. Likewise, DHL currently uses 15,000 electric vehicles to transport parcels in order to reduce CO₂ emissions. The additional costs for the contribution of the GoGreen shipping bears GEMLY & Co. A reason more to the joy for you is also the free shipping on your orders within Germany.